Community Hub
Inglewood Town Hall Hub
Project Working Group
News

- 16th October 2015 - Turning of the Sod Ceremony
A good turnout of community welcome the ceremony to mark the start of construction work on the Town Hall Community Hub Project. MC was John McLinden, Loddon Shire CEO, who introduced speakers Dr Sharman Stone (MP) representing the Minster for Regional Development, Maree Edwards (MP), representing the Victorian Minister for Development, Murray Baud, representing the Community Bank and Mayor Gavan Holt.
Then there was the formal "turning of the sod" , followed by morning tea at the Bowling Club. All made comment on the favourable project and benefits to the community.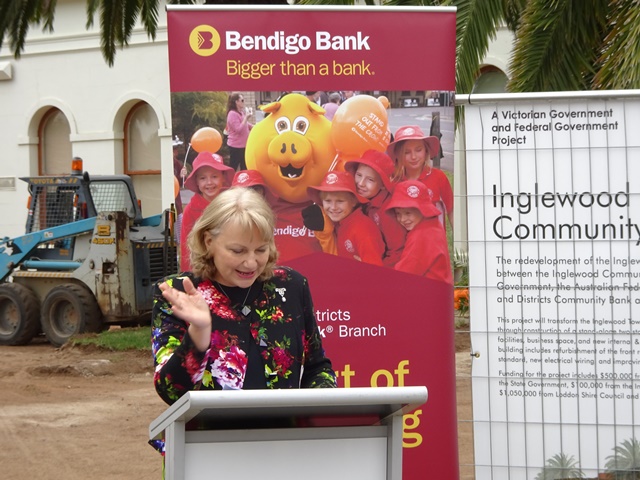 Dr Sharman Stone, Fed Member for Murray.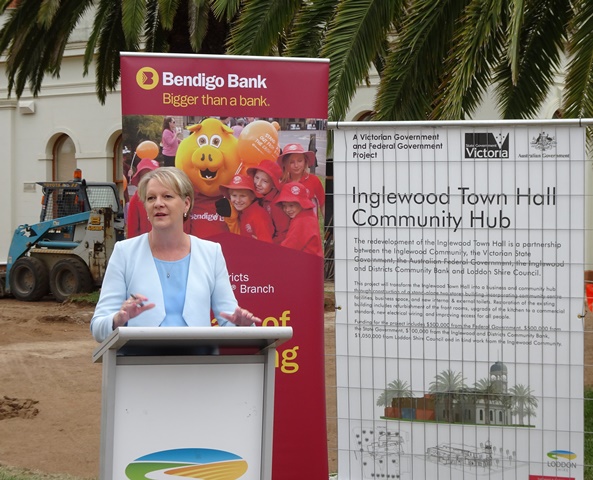 Maree Edwards, MP for Bendigo East
L:R. Don Walker (Town Hall Committee) Lyn Rose (Inglewood Development & Tourism Committee) Cr Gavan Holt, (Loddon Shire Mayor), Murray Baud (Project Committee & Community Bank ), Maree Edwards (MP), Dr Sharman Stone (MP), Dale Jackson (Project Committee & Community Bank ), Jill Burdett (Project Committee & Community Bank).
12 October 2015 - Construction has started!!
Preliminary works have commenced with water tank removal, Soil levelling and removal along with setup of the workers facilities. Security fences are now installed and the Town Hall site is formally a building site.
We expect foundations and concrete slabs prior to Christmas and steelwork up after Jan 2016.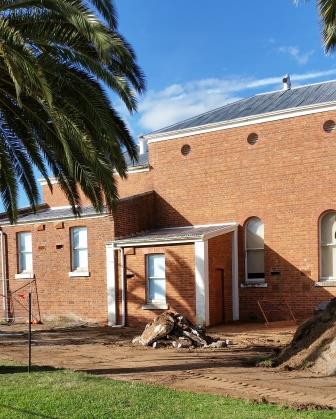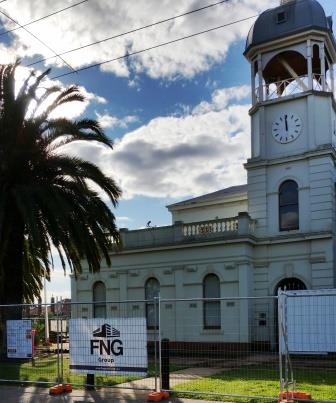 Revised plans endorsed and ready for Tender!
Community Hub construction out to tender.
Contract No 305 – Construction of New Inglewood Community Centre
Released on 20 June 2015
Loddon Shire Council invites tenders from suitably qualified and experienced companies for the construction of the new Inglewood Community Centre. Tenders will be received on or before 4pm, Friday 24 July 2015.
- See more at: http://www.loddon.vic.gov.au/Home#sthash.SYO3O6T9.dpuf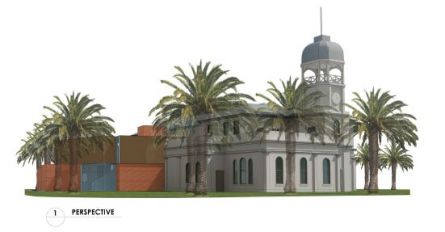 June 16, 2015
The Loddon Shire has endorsed the final plans for tender construction after minor changes in the kitchen were required. A building permit can now be issued and the plans and contract are now ready for competitive tender to be issued. After the required tender period and analysis of the bids, the winning builder will be announced, expected towards the end of August.
An issue still resolves around the power feed to the site, but discussions are ongoing to work to an agreeable solution.
March 2015
Loddon Shire approved the Planning Permit for the new building and site works at yesterday's monthly council meeting.
The construction drawings are in the final stages of completion suitable for a building permit applications and tender documentation. A tender period and evaluation is planned for May/June period. Our expectation is for site works commencing in July.
December 2014
The year has ended with the Working Group endorsing the revised plans. Several significant issues were identified with the first designs ( to meet building code) resulting in higher cost and major changes to the older part of the building with Council requesting a redesign of key components.
Hughes Cartwright will now proceed to detailed design drawings, and final tweaks in consultation with subject matter experts. Council expects to move to tenders in the 2nd qtr 2015 and project completion mid 2016.
The plans and images can be viewed from the documentation page. more
April
The planning permit has been lodged with the Loddon Shire for the new community hub building. A set of plan drawings and elevations have been provided by the architects Hughes Cartwright. There may be some minor alterations after further discussions with the relevant subject matter experts and detailed designs drafted.
March - All hazardous material has now been removed and the building cleared for works to proceed. Underpinning work has now commenced.
Jan 17 - Kitchen closed
As part of the works in the kitchen area, an unidentified substance was discovered and is being examined.
We have been advised by the Hazardous Materials Consultant that the supper room is out of bounds until further notice and should not be entered by anyone. A report is now being prepared and Council should have it in around a week.
December 12, 2013 - Hughes Cartwright Design Group appointed as Architect
Loddon Shire Council has appointed Hughes Cartwright Design Group as architect for the design documentation of the Inglewood Town Hall Hub Redevelopment. This company was chosen after careful consideration above other good submissions on its track record of successful delivery of similar heritage projects and also its superior acknowledgement of the extensive consultation process which will be necessary at Inglewood.
Council has advised Hughes Cartwright Design Group that consultation will commence with the Project Working Group at Inglewood sometime early in the New Year.
Other progress on the project;
The architect has commenced with its tendered program of service delivery for the works

Underpinning works of the south west wall will happen in the new year and the quote has been accepted
Plumbing and waste management information has been received and some

plumbing works will commence in the new year

Progress reports for PLF funding will be completed prior to the holidays and acquittal of our PLF planning grant.
We look forward to fruitful consultation and discussions with you all in the near future.
August 16, 2013 - Full project funding achieved and announced.
Peter Walsh, local MP and Minister for Water as well as , Agriculture and Food Security announced the grant of $500,000 from the Putting Locals First program by the Victorian Government. Mr Walsh announced the grant to an audience at the Eucalyptus Distillery Museum, on behalf of Minister for Regional Development Peter Ryan.
Loddon Shire CEO John McLinden opened the function, and invited Mayor Geoff Curnow to welcome Mr Walsh.
Mr Walsh then presented the large cheque to Mayor Curnow. Councillor Colleen Condliffe as a THCoM committee member and Working Group member thanked Mr Walsh. Councillor Colleen, as a Board member of the Inglewood & District Community Bank, then announced a donation of $100,000 to the Community Hub project. This was a large grant from the bank and signifies the banks intention to have a great impact with the community activities.
Murray Baud, community representative in the working group, also spoke and thanked the three tiers of government for their significant contribution to the project and cooperation to achieve such a a great outcome for the community project. The total funding has reached the goal of $2.15m!! Loddon Shire is currently selecting a Project Manager and the project can commence the next stage.
May 24 - RDAF Round 3 funding has been announced and we were SUCCESSFUL! A grant of $500,000 announced on the RDAF website.
This is fantastic news, and increase our funding tally to $1.65M, with the outcome of an application to Regional Development Victoria pending.
Further details: http://dlib.rda.gov.au/VIC/RDAF_r3_sta2_id078.html
April 24 - Minister Peter Walsh announces grant of $400,000
At a ceremony at the Inglewood Town Hall, local MP Peter Walsh announced a state Local Government Infrastructure Program grant of $400,000 towards the Community Hub project. This brings our committed funds to $1.15M. We now eagerly await the RDAF Round 3 outcome.
See Loddon Times article.
Another grant of of $198,000 towards the Inglewood Industrial estate, matched by Council funds of more that $198,000 was also announced which dovetails well with our business and community infrastructure.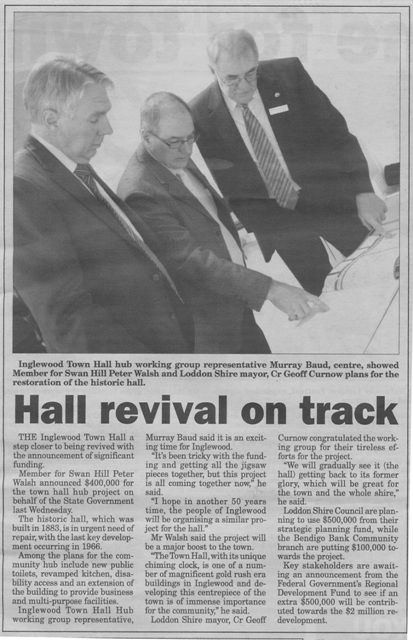 March 2013 THE BID FOR RDAF ROUND 3 IS IN!!
Grants: Some great news to complete the year with the approval of $30k from RDV for project planning and $500k allocation from Loddon Shire Community planning strategic funds. The current project funding commitments stand at ~$783k. See details below in activity.
Feb 13th 2013 - Regional Development Australia advised our Expression of Interest for funding has been approved to proceed to full application. The Working group will now focus on this timetable.
Full applications for Round 3 Open 13 Feb
Full applications for Round 3 Close From Wednesday, 27 March 2013
Minister announces projects to be funded from Round 3 From Friday, 7th June 2013
Open Day
The public day for viewing the plans and talking to the working group was held on Sunday 30th September 11-2pm at the Town Hall.
We welcome public feedback on the proposals. Some young lads came through on Friday during set-up and they were happy for the planned development.
We had over 50 folk looking through the hall and reviewing the plans.
A great cooked lunch was provided by the Inglewood Lions Club (thanks guys!!) and the winner of the door prize was Denise Gartside, from the Inglewood Emporium. Congratulations Denise!! We hope you enjoy it.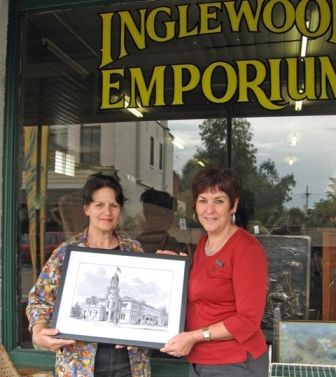 Feedback on the plans and proposal can be emailed to:
email: ComHubfeedback@inglewood.vic.au
You can download the feedback form here
Current Activity
Update: 15/2/2013
The group has progressively working through the implementation plan outlined in the Strategic plan document.
A key activity is defining the final requirements for each space in the hall and new construction areas. This has being documented.
Communication plan has been completed.
Project Working Group Terms of Reference document.
Draft concept plans drawn and funding streams being identified.
Operational mode principles developed which will support full operational plan and business case documentation. A consultant will complete this work.
Stakeholder briefings held with ICRC and Town Hall Committee of Management.
Draft concept plans drawn and funding streams being identified.
Operational mode principles developing around key documentation, which will support full operational plan and business case documentation.
Stakeholder briefings held with ICRC and Town Hall Committee of Management.
Significant progress has been made on developing the plans for the hub and the building. Concept drawings of a new building, proposed to house the new toilets and a business hub area, have been further refined with discussions by consulting engineers and used as a basis for discussions about inclusion of the various features. These have been well received and the collective feedback to date has been very encouraging. Detailed drawings of some kitchen and storeroom configurations have also been produced for consideration by the committees and the community.
Further stakeholder briefings have been made to update the Council executive, Town Hall Committee, Inglewood Community Resource Centre, Inglewood Development and Tourism Committee.
Quite a bit of work has been done to identify costs and the overall budget required. Formal requests will next be developed through the Council to the various government and philanthropic organisations for project funds.
Loddon Shire Community Planning allocation of $53, 500 awarded, building on previous grants as seed funding for the further funding. Total committment now $153,500.
Further briefing to Loddon Shire Council Technical forum on status of project, technical details and next steps towards funding strategy.
Inglewood and District Community Bank have indicated they will support the project.
The open day was held for viewing of the plans, was at the Town Hall Sunday 30th September 11-2pm.
A planning grant for $30,000 was submitted and approved by Regional Development Victoria. This grant enables some of the pre work required to complete a business case, design and project requirements leading to a further funding bid.
An Expression of Interest was submitted Dec 5 under Round 4 of the Regional Development Australia Fund. The outcome of the EOI will be advised on February 13th, and if successful, would lead to a full application. - Short list successful, so Proceed to full application.
10 Dec- Loddon Shire Community Planning Manager, Tim Jenkyn presented a report on Inglewood Town Hall Hub Funding Strategy to the December Council Meeting. Council accepted the report and endorsed the allocation of 2012-13 $500,000 Community planning strategic fund to the project (Note: pending council minutes confirmation)
Level 2 Energy audit commissioned to investigate upgrade energy savings. Outcome: The projected scope and savings are insufficient to warrant an application.

Discussion with design houses on technical drawings costs.

Councillor Colleen Condliffe will be joining the working group as the Council representative. We would like to thank DPCD Jenny Dyer and Mayor Geoff Curnow for their valuable contributions to the project.

RDAF Expression of Interest was accepted by RDA and a full application was submitted with additional information. Documentation consisted of a updated business plan, operational framework during the construction stage, updated concept plans with engineering assessments and a Quantity Assessment to refine the project delivery costs.

24th April, Minister Peter Walsh announces the Local Government

Infrastructure Program (LGIP) grant of $400,000 towards the hub project. Mayor Geoff Curnow spoke of the project.

24th May, Regional Development Australia announces grants from Round 3. $500K

available

for Inglewood Community Hub project.

16 August, Region Development Victoria Putting Locals First grant of $500,000 announced by Minister Walsh on behalf Minister peter Ryan.

Inglewood and District Community Bank announced donation of $100,000 to the project.

Project now fully funded at $2.15M with funding agreements completed. Project progressing to implementation phase.
Vision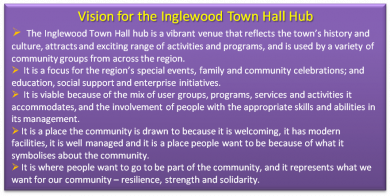 Purpose:
This website is the public communication path detailing the progress and status reports of the project. Given the size of the project, it most likely will be broken into stages, and the project plan will detail those activities. Critical to these projects is funding, and that may take some time and iteration to lock down before "observable" changes begin to be implemented.
Thankyou for your interest in the project and the working group looks forward to an outcome which is a marvellous and ongoing asset for the Inglewood and District community.

Project Background - Inglewood Community Hub Project
In June 2010, Loddon Shire Council, in partnership with the Department of Planning and Community Development (DPCD), Inglewood and District Community Bank, Inglewood and District health Service (IDHS), Inglewood Community Resource Centre (ICRC) and Inglewood Development and Tourism Committee (IDTC) commissioned a project to establish whether there is a need for a new community hub in Inglewood.
Facilitator Lesley Humphries appointed to manage the feasibility process and a Project Reference Group was established.
Community meetings held with various organisation and community representatives.
A survey of representatives and the community focussed clarified the needs of a Community Hub, and also a preference that the Hub be linked into the Town Hall precinct. This had the added advantage or utilizing and upgrading the amenity of this iconic community landmark.
Inglewood Focus on Feasibility Report and Strategic Plan produced in March 2011 in conjunction with Town Hall heritage study and with the assistance of Mitsuori architects.
Focus on Feasibility Report and Strategic Plan presented to Council on 27 April 2011, was endorsed to proceed with recommendations (see box)
Formation of Project Working Group to follow on from Feasibility study group.
From April 2011 Council meeting

Project Working Group
Initial meetings have focussed on understanding the project, the implementation plan, developing terms of reference, and building up a mode of operation and communications strategy. Of critical need is the understanding of the project scale, breaking it into logical stages and linking to funding opportunities. This will take some time to consolidate.
Communication mechanisms with the various important stakeholders will also be developed and in particular to clarify detailed requirements for the project.

Working Group Members:
• Council - Tim Jenkyn
• ICRC CoM - Jill Burdett
• Town Hall CoM - Dona Martin
• Community - Murray Baud
• Dept Planning & Community Development - Jesse Sherwood
• Bendigo Bank Board Member - Dale Jackson
• Loddon Shire Councillor - Colleen Condliffe
Project Relationships
The following diagram highlights the number and complexity of relationships for the PWG. The key roles of the group are defined.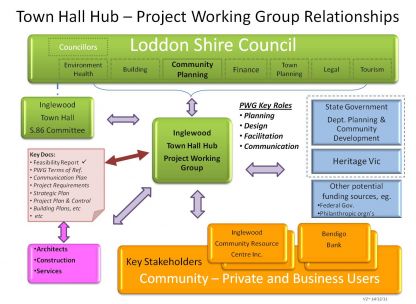 Project Documents
Refer document section