INGLEWOOD & DISTRICTS SOLDIERS' MEMORIALs WW1.
Sample Extracts
Foreword
Why do we have war memorials? After all aren't they just etchings in a collection of bricks and stones?
No one truly seeks to have their names on one and as decades pass, who remembers the THOMPSON's,
STAGG's, SWALE's and DONALDSON's, now days anyway?
On the 30th of December, 1921, one such memorial was unveiled by Major General Sir Edwin Tivey in
Grant Street Inglewood. Two Hundred and twenty names of soldiers, sailors and airmen, who can now
only be described as heroes, who served in the 1st World War, were honored on this monument on that
day. Heroes from the communities of Inglewood and surrounding areas. What is contained in this book
is the written history of these servicemen, including letters they had written to loved ones back home.
An excerpt of one such letter from a soldier landing on the shores of Gallipoli reads;
"It was marvelous how we reached the firing line, bullets, shrapnel and big shells falling everywhere.
Just before I reached the firing line I was hit over the heart by a bullet. It knocked me down, but didn't
do any damage. As luck happened I had my little wallet in my breast pocket, with all the letters and
postcards I got from Australia in it, and also a pocketful of cartridges. The bullet went right through my
wallet and all the letters and postcards that were in it, and bent a lot of cartridges. It also knocked one
bullet out of the case, but it didn't touch my skin, because when I got back to the hospital I found the
bullet in my pocket."
This history is fascinating, inspiring and at times spine tingling. It gives a true insight into the character
of the Australian Soldier.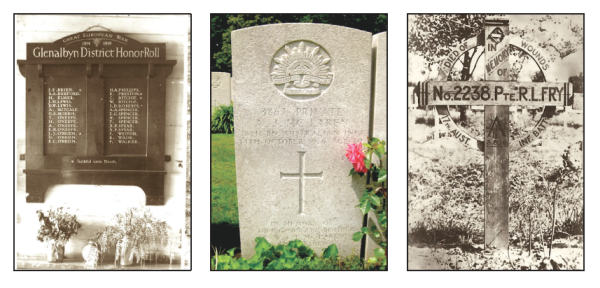 Inglewood Advertiser, 3/12/1915:
Tidings of Soldiers.
An interesting and somewhat pathetic reference to the doings of Inglewood soldiers abroad is contained in a letter to his relatives from Trooper S. Bailie, of the Light Horse. The writer narrates how, the night before the Lonesome Pine sortie, the idea was conceived of a gathering of the "clan", it being general knowledge that a big movement was on foot, and that in the fortunes of battle many friendships might be severed. All the Inglewood soldiers in the trenches were summoned together by Quartermaster Sergeant J.B. Sutherland (formerly manager of the Savings Bank), and an hour was spent in intercourse, farewells and good wishes being exchanged prior to parting. Trooper Bailie tells how, after the battle, he endeavored to locate his old mates, and how, as far as he could ascertain up to the time of writing, the only one to pass through the ordeal unscathed besides himself was the convener of the gathering, Sergeant Sutherland.
Inglewood Advertiser, 21/3/1916:
Private J. Thomas, writing to this office from Egypt, reports that he, J. Simpson and J. Simons,
who are in camp together, have met D. Baker, D. and F. Donaldson, E. Staley, F. Symonds, W. Watkins,
S. Bailie, M. Barry, C. Gladman and a lot of others. Nearly all Inglewood appeared to be over there, and
all he had met were well.
Fri July 6, 1917:

PRIVATE C.L. TAYSOM
From the Information Bureau of the Australian Red Cross Society Mrs A. Taverner, of Belmont street, has received the following concerning her son, Private C.L. Taysom, reported wounded and missing. Private H.E.A. Peach on the 29th March stated:-
I have tried to find out whether he was alive since July, but unfortunately have got no satisfaction. On July 25th Private C.L. Taysom went out to lay a tape in "no man's land," and I saw him just before we hopped over the
parapet to charge Fritz. He was in the Intelligence Platoon, and that was their job to lay the tape for us to line up on before we made our charge. He wished me luck, and I returned the same wish to him. Well, it was some four
hours or so before we met again, and it was then in a bomb fight with Fritz. My Lewis gun was ordered to the left to assist the bombers, and the first sniper I saw was Cliff Taysom. We were both glad to see each other safe. Later on
I left the gun and started bombing, and Cliff left his rifle and was handing bombs to me. I had thrown a fair number and he handed me two more and I threw one, when there were two 100 explosions behind me. On turning round I saw that Taysom was the only one left standing out of several others. He was wounded in the neck and cheek, and before I had got rid of my last bomb he must have gone out of the communication trench we were in. Since then I have not been able to find out anything more, except that his sergeant told me he could not find him amongst the dead in that trench.
Private Taysom was a man of about 5ft 6in in height, of medium build, with bluey grey eyes, light hair, and grew a dark whisker. He always had a smart and pleasant appearance. He also had good teeth. Mrs Taverner will be pleased to hear from any returned soldiers or relatives of soldiers who may have had tidings concerning her son.
Tue May 28, 1918:
Tidings of Soldiers

Lance-Corporal C.W. Martin, writing to his mother, Mrs H. Jones, Borung Street, states:-
We are having very changeable weather here in France, and it goes very much against us. We are still toiling away at the trenches, and it is rather rough at times. Plenty of shells are coming over. Recently I was talking to my sergeant in the front line, when a bullet came along and penetrated his stomach. I ran along the trench and summoned a stretcherbearer. Between us we managed to get him to the dressing station, but the poor chap died four hours later. He happened to be a married man with three children living in Melbourne, and was a grand chap. This makes the third
person hit standing by my side. There are a good many planes up today in spite of the wind, and they have been doing some very useful work of late. I have not seen a fight in the air for some time, but anticipate before long there will be any amount of that sort of thing.
Fri Aug 2, 1918:

LATE PTE F. MURRAY
Mr and Mrs J. Murray, of Heales street, are in receipt of a number of letters from comrades of their late son conveying their regret at his death. The following are extracts.
Sergeant D Philips writes:-
Please accept deepest sympathy from members of platoon and self in your sad bereavement in the loss of your son, who was killed by shell fire on 27/4/18. At about 4 p.m. the enemy commenced shelling in the vicinity of billets occupied by our company, and a shell burst in the doorway of the billet, the burst coming through the doorway, behind which our
departed comrade was standing with three others, and he was killed instantaneously. I have known your son for some time, he being a member of my platoon, and he was well liked by all who knew him. We found him to be a grand, steady and brave lad. It is not a very nice thing to write to you about, but this war has called many a brave lad to rest, and I thought you would like to have fuller details of your son's death.
Private Alfred Gook, of Inglewood, writes:-
I have much sympathy for you all in the loss of your brave son, being myself a native of Inglewood. I have known Frank for a long time, ever since our school days. I was always with him here in the field. He was a signaller, but not
in my company, and since he has come over here to the war he has proved himself a soldier and a splendid comrade in action. No doubt you will all know who I am. My mother has often mentioned you in her letters. As far as I can hear Frank was struck in the head by a piece of shrapnel and was killed outright without any pain. I saw him buried. I cannot tell you the name of the place, but he was buried in the best and most careful way in which a soldier can be buried in the field.
Private Les Harrison wrote:-
He was a boy any parent might be proud of, and led a clean life over here. He was a boy that was never wanting when there was anything to be done, and did his duty nobly and well. I was not with Frank when he met his death, but I am told he was in the act of writing a letter to his father when a shell burst about three yards away. Death was instantaneous. Private S.V. Caccianizer, a fellow signaller, who trained with the deceased at the Castlemaine camp and had been with him up to the time of his death, also wrote regretting the loss of a close friend and valued comrade.
INGLEWOOD ADVERTISER:
Fri Dec 20, 1918:
Tidings of Soldiers
INGLEWOOD SOLDIER'S NARROW ESCAPE
The following letter has been received by Mr A Nixon from Driver L. Nixon:-
France, October 1st, 1918 An Australian mail arrived to-day and I was very pleased to find five letters awaiting me when I arrived back in work at midday. Went out on ammunition at 9.30 last night. It was very cold and extremely dark, and we had a rotten night of it, Fritz shelling the roads quite a lot. Poor old Al (Driver Allan Gillespie), is broken up and is very shaky, owing to having his mate killed at his side. They had just dumped their load of ammunition, and were on the point of leaving, when a German shell landed close to them. Two other shells followed in quick succession, one in front, the other on the other side, pieces of shell flying all round. Al's mate (Dick Green), who was driving, stated
he had been hit and let go of the wheel. He was holding his side where a piece of shell had entered. Al immediately switched off the lorry, running on to the side of the road, and assisted Dick along the road to get his wound dressed.
Both men had to lie down six or eight times, for as soon as Fritz saw that the lorry had stopped he shelled it frightfully. Fritz had direct observation of this road, not balloon observation, but land observation. Dick was extremely weak by this time, but conscious. When they got out of the strafed area, they met a Yankee, who helped Al to carry Dick, in an
overcoat, to a lorry conveying wounded. Al then went back to get the lorry away, but found the side knocked out of one pair of cylinders, the induction pipe riddled, also the radiator. He had to get another motor to pull him out. All the time Fritz was shelling for all he was worth. Al had a marvellous escape. Pieces of shell are sticking in the seat all around where he [was] seated, and one piece passed clean through everything and must have gone very close to his
head.
We got word to-night that Dick had died. He was a fine chap and left Australia in 1914, and was only waiting to get home on this six months' stunt. It is hard to think he has dodged everything since 1914, and then get knocked
just before his return home. I have not seen Al since yesterday morning, he is in the workshops getting his lorry repaired, but he is not too good on it. Some of the shells, which were high explosives, burst very close to him, and this
alone will upset anyone for quite a while. We are still pushing Fritz, and it is more like open warfare now. We have to do long runs with ammunition, at times under heavy shell fire.
About a week ago I witnessed a very pitiable sight. A 5g high explosive landed amidst a large batch of Tommies, blowing them in all directions. There were 30 casualties, 20 being killed. At the time I was unloading telephone
wire about 35 yards away and I can tell you that wire came off "toot sweet". Everybody is in splendid spirits here. Isn't the news splendid! Bulgaria has "turned it in," and I reckon that Turkey will follow soon, and if the weather will
only keep good for a bit longer we will be in Germany, sure thing, and I guess then Fritz will 'chuck in the sponge,' and what a day that will be.