Education & Learning
Inglewood Kindergarten
Contact Name : Inglewood Kindergarten Teacher
Postal Address : 75A Grant Street North
Suburb : Inglewood VIC 3517
Telephone : 03 5438 3533
Mobile Number : 0498 505 277
Fax Number : 03 5438 3533
Email : inglewood.kin@kindergarten.vic.gov.au
Inglewood Primary School
Details
Phone: 5438 3303
Website: http://www.inglewoodps.vic.edu.au/
Address
73 Sullivan St. Inglewood Vic 3517
St. Mary's Primary School
Details
Phone: 5438 3075
Website: http://www3.sminglewood.catholic.edu.au/
Address
87 Southey St. Inglewood Vic 3517
Wedderburn College Seniors Campus
Details
Phone: 5494 3011
Fax: 5494 3516
Email: wedderburn.p12@edumail.vic.gov.au
Website: http://www.wedderburn-college.vic.edu.au/
Address
Hospital St., Wedderburn Vic 3518
Inglewood Community Neighborhood House
Details
Phone: 03 54383562
Fax: 03 54383260
Email: info@icnh.org.au
Address
Community Hub
20 Verdon St., Inglewood, Vic , 3517
Description
Open Monday - Thursday - 9:00AM to 4:30PM
Inglewood Library Agency
Inglewood Library Agency is located within the Inglewood Community Neighbourhood House (ICNH), at 20 Verdon Street in Inglewood. The agency is open Monday to Thursday from 9am to 4.30pm, with Goldfields Library staff in attendance on Wednesdays between 10am and 11:30am.
Ph: 54492790
Email: helpdesk@ncgrl.vic.gov.au
Website: http://www.ncgrl.vic.gov.au/inglewoodagency
Features:
Regularly updated collection of fiction and non-fiction books, children's picture books, junior fiction books, young adult fiction books, magazines, audio books and DVDs
Literary events
Adult digital literacy programs
Regular Storytime sessions (http://www.ncgrl.vic.gov.au/storytimes)
Many other services offered within ICNH​
Library Staff Visit:
Our friendly Library staff visit Inglewood Library agency on a Wednesday between 10am and 11:30am, and can assist with:
Becoming a member of the library
Issues with your library card, including fines
Placing reservations for books, magazines, DVDs etc.
Registering for programs
Navigating the library website and catalogue
Making the most of your library membership!
Accessibility:
| | | | | | | | |
| --- | --- | --- | --- | --- | --- | --- | --- |
| Access Ramps | Public Lifts | Wheelchair friendly toilets | Adult change facilities and hoist | Electric mobility vehicle charging station | Hearing Loop | Disabled parking bays | OTHER |
| Y | N/A | Y | N | N | N | Y | |
Welcome to Inglewood

-

there's more than you think!

Gold, blue eucy, history and architecture, exercise or just some time to relax!
Eucy Museum - Re Opening
Plans are progressing for the anticipated opening from August 12th. The Committee is delighted to be concluding negotiations for the re opening in August. The business will open from the 12th August, with an official "re-launch" and short ceremony on the Sunday 15th at 2:00pm, which will also recognise the 10 years since opening in 2011.
Nicole Upton will operate the facility, with some fresh ideas and new products planned.
After such an extended closure, it will be great to have the museum open for visitors , tours and a great coffee.
Of course, these plans and dates are subject to the various health restrictions and pandemic.
2021 - 2031 Inglewood Community Plan (draft)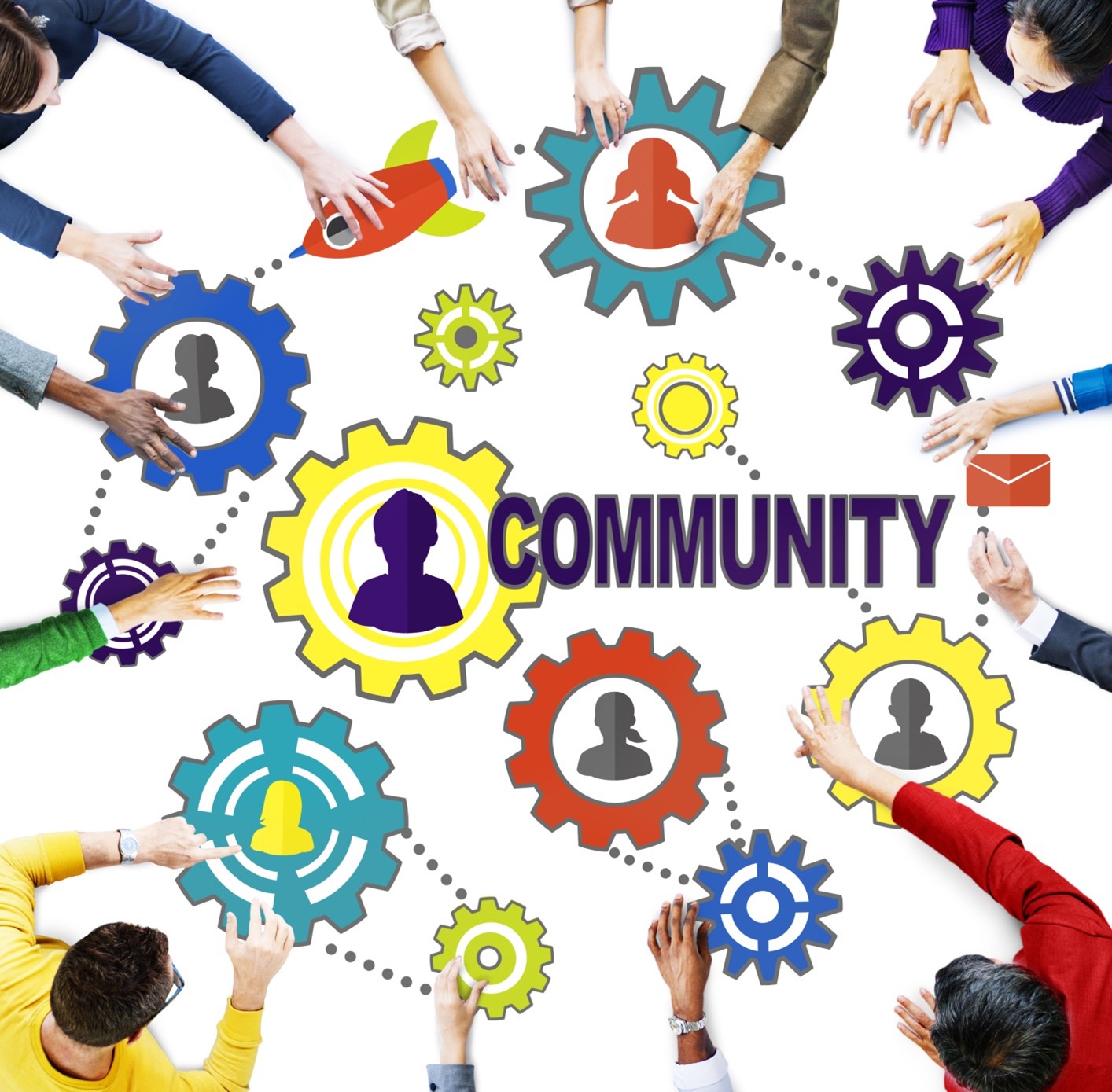 The Inglewood Development & Tourism Committee (IDTC) has been working on the revised Inglewood Community Plan for some time. Council restructured the processes and supported communities developing new plans.
The new plan has drafted after the community survey was collated. The Council has invited the IDTC to present the plan to Council's Technical Forum on 10th August.
The Community is invited to review the planbelow prior and provide any further feedback to the IDTC president Carey or Secretary Pauline [ email to IDTCsecretary@hotmail.com ]. The annual funding allocations will only be directed towards projects currently identified and scoped in the Plan.
Download the plan >> here pdf 1.64MB
The identified goals are in notional priority order, but smaller projects of a lower priority may be funded if "shovel ready" and adequate funding.
Goal 1: Built environment and town beautification

Goal 2: Improving where we live.

Goal 3: Tourism and marketing

Goal 4: Community health and wellbeing

Goal 5: Traffic Management

Goal 6: Sport and recreation

Goal 7: Social opportunities

Goal 8: Heritage, arts and culture

Goal 9: Natural environment

Goal 10: Improving our local economy

Goal 11: Connectivity: Internet and individual capacity
Some concept images from the Streetscape Masterplan, the top priority goal 1.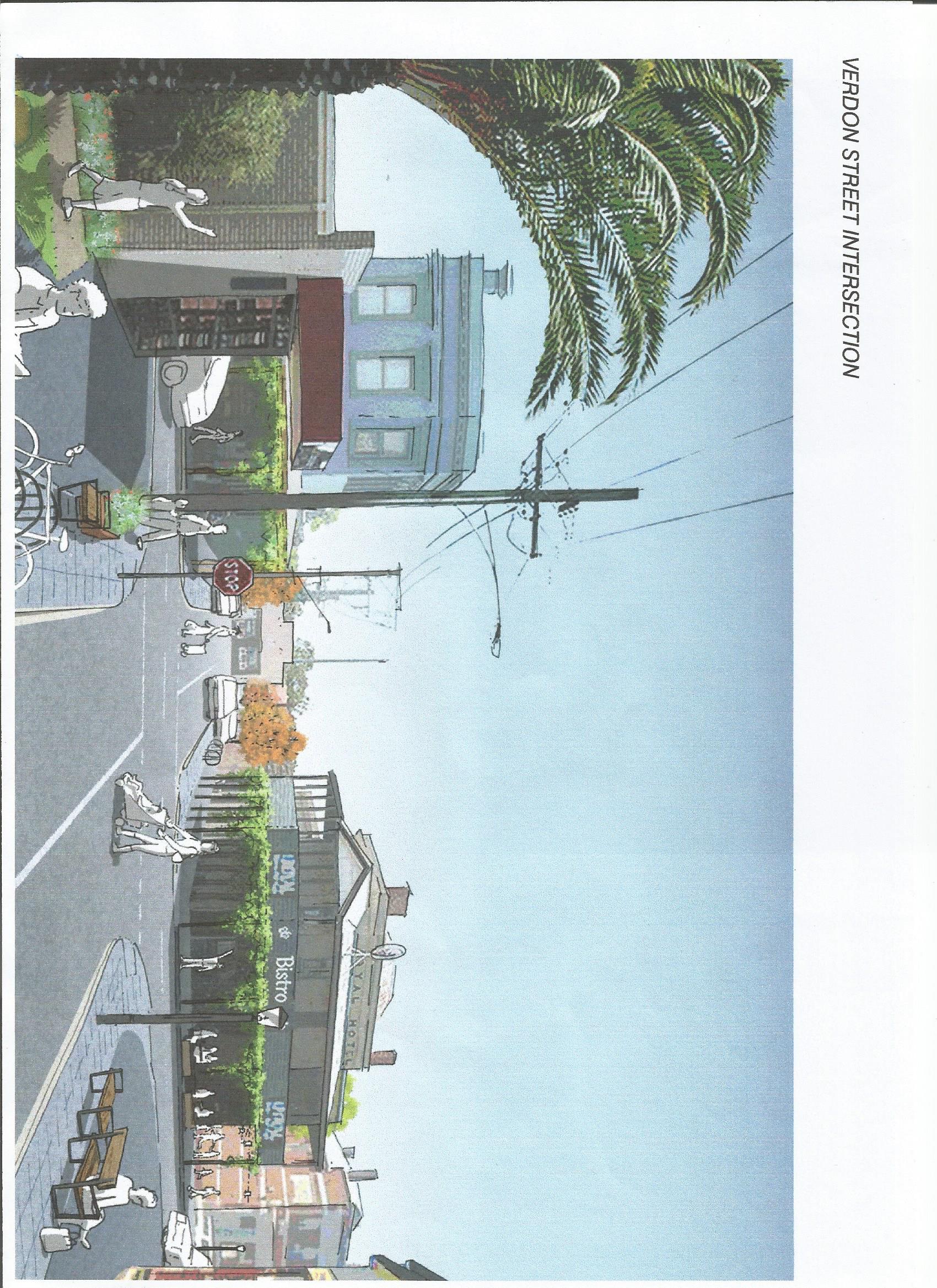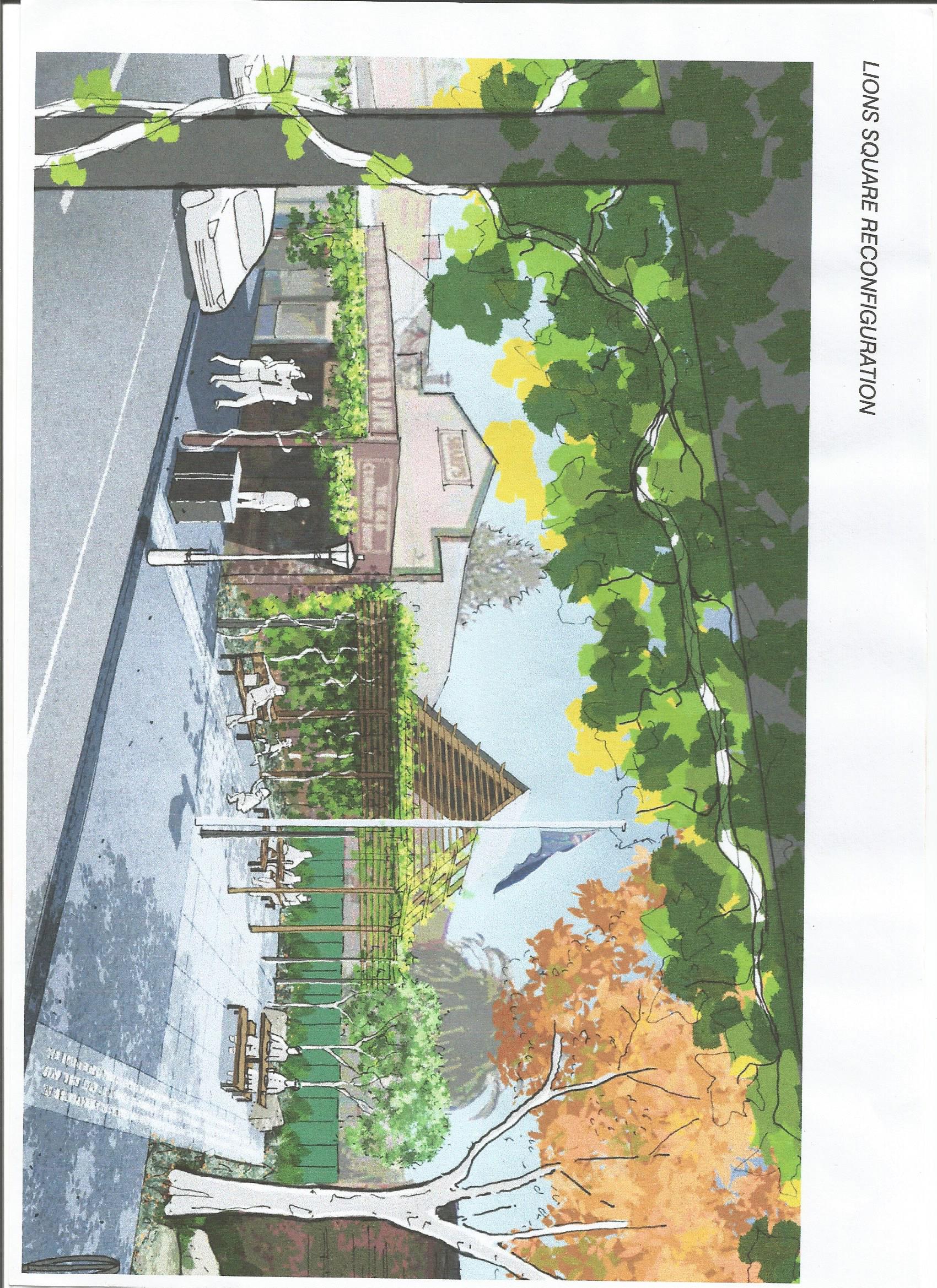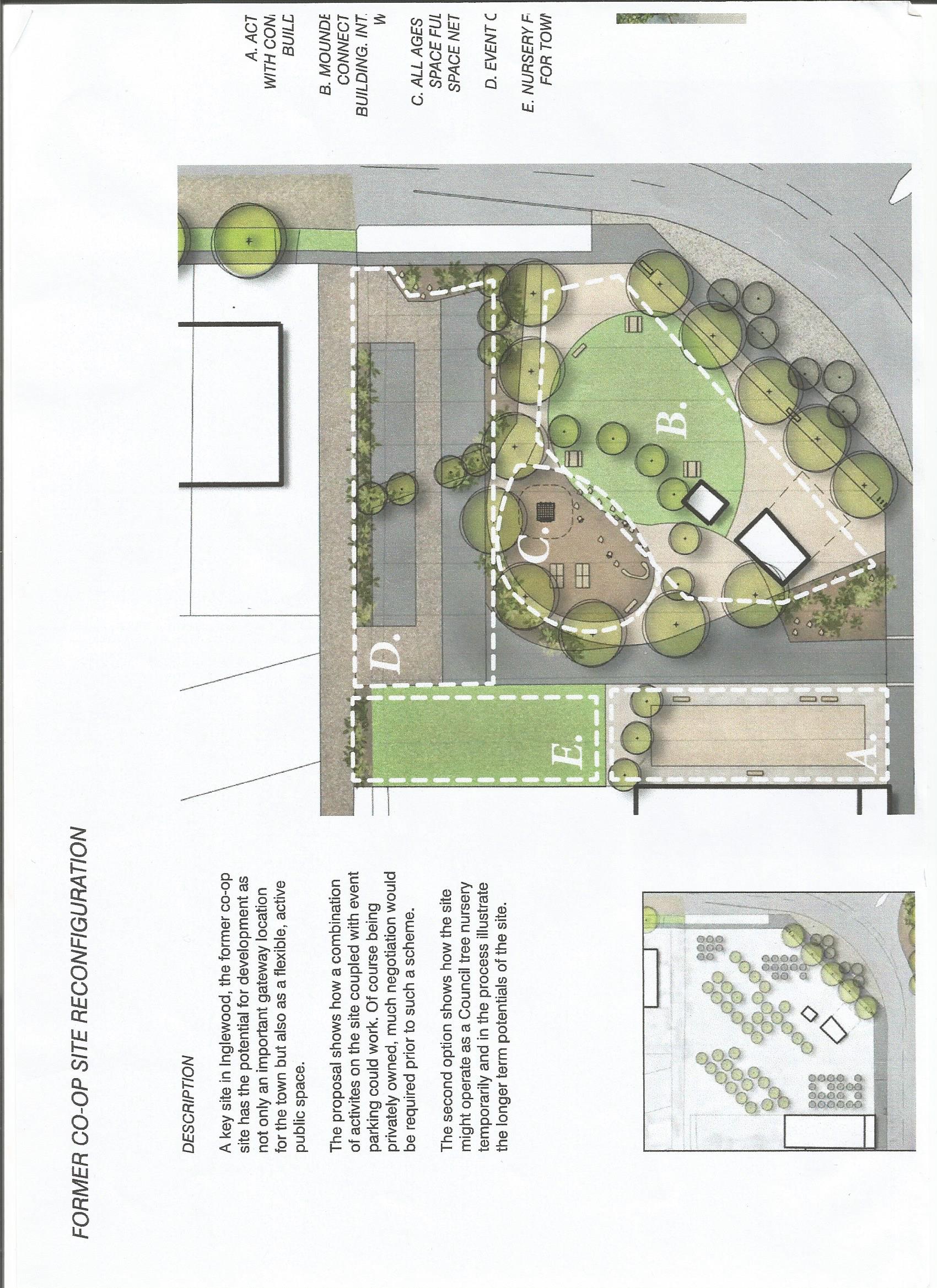 What did the 2010 plan achieve?
History of community planning
This is the fifth stage in the development of the Inglewood Community Plan. The first was the Inglewood Urban Design Framework, which was begun in 2002 and completed in April 2003. The second stage took place in January and February 2004. The third stage took place in 2004 when further public discussion focused on the progress to date and for further development and consolidation. Stage four was a public meeting held in 2008 which led to the development of the Inglewood Community Plan 2010.
The Inglewood community is proud of the many achievements made, an outcome of collaborative and combined efforts of many, benefiting the community in a number of ways.
Some of the successful initiatives include:
• Eucalyptus Distillery Museum. Formally opened in 2011. A Loddon Shire appointed Section 65 committee manages the site and ongoing development and provides for tours and the establishment of the retail area operation.
• Arts park development (right)
• Public drinking fountain - 2013 (right)
• Community Hub - participation with the community hub feasibility development activities and the Community Planning submission (below right)
• Inglewood Railway Station Redevelopment
• Adventure park at sports precinct
• Industrial Park development
Tourism & Marketing
• Inglewood geographic domain community website – www.inglewood.vic.au
• Brooke Street flags, highlighting businesses open for business in a consistent manner for the town.
• Brooke St. Brochure.
• Blue Plaque Heritage trail, in conjunction with the Inglewood & District Historical Society (below right)
• Tourism Information Board 2012/3. This project replaced the community directory sign which was seriously outdated.
• Input to Streetscape project
Community Celebrations
• Blue Eucy Festivals
• 150 Years of Gold, 1859 -2009
• Inglewood Alive Festival
Community Planning engagement
• Numerous community planning meetings to register, scope, and prioritise identified community projects. This has been an important function of the IDTC which has assisted many community projects to development. In conjunction with the Loddon Shire Community Planning team.
• Participation with the planning for the Railway Station redevelopment.
-------------------
INGLEWOOD ALIVE Festival

Unfortunately the 2021 Alive Festival has been cancelled due to ongoing Covid pandemic issues.

Looking forward to the next 2022 November festival
---------------------------
Volunteering
Volunteers play a vital and valuable role in the community of Inglewood.
Our volunteers are a diverse range of people who work tirelessly with organisations with the common interest of enhancing the Inglewood and district communities.
Volunteering can be a fun way of meeting new people, helping others and developing new skills.
It is also about sharing and developing personal skills and strengthening links between people in the community.
If you would like to be a valued volunteer, we would like to hear from you.
Please call the Inglewood Community

Neighborhood

House (ICNH) on 5438 3562
or call in and have a chat with the team.
We greatly appreciate and value your contribution.
Youth Support
Some kids can be under a lot of pressure! Decisions about the future, school stuff you may not know about, holiday boredom or struggling to find that perfect job!
A fantastic new site is up and running for the 16-25 year olds.
Tune In Not Out is 24hr TV for life's challenges, such as alcohol, drugs, mental health, exams and relationships.
Check it out! Pass it on! Spread the word!
It may help someone you know, and you may never know how.

TINO and thanks to the team that put it together!!
About Inglewood
Situated 199 km from Melbourne on the Calder Highway, this historic gold mining town presents a vision of the past. Inglewood forms part of the famous 'Golden Triangle' which encompasses some of the richest alluvial goldfields in the world. The last great Victorian gold rush occurred here in the 1860's, bringing prosperity and a burgeoning new life to a rural community, clearing the land of mallee scrub and producing wool for the young colony and for export to England.
Gold was like a magnet and miners flocked to Inglewood from all corners of the globe. A few miners' tents rapidly became a tent town of thousands. Inglewood became known as 'the city in the scrub'. In the third year of its existence Inglewood became a municipality, the Borough of Inglewood. Such was the wealth taken from the earth and rock, that the tent town became a community of substance, buildings of timber and brick; imposing structures, several of which stand today.
The gold was eventually extracted to economic limits and the miners departed. A new, though less profitable industry helped the town survive. Eucalyptus oil, first recognised for its wide ranging qualities from the earliest years of colonial occupation, was produced in quantity in the district. The Blue Mallee, locally known as 'Blue Eucy ', which produced an oil of exceptional quality, grows in abundance in the area. These days Inglewood is a service town for the surrounding rural districts and smaller communities.
Stay a while and you will be able to explore the town with he range of activities listed on the link below.
These can bring the history to life .
Collectibles, gold, blue eucy, history and architecture, ... or just relax!
Have an enjoyable time and come back to visit Inglewood again.
One of the reasons it's called the "city in the scrub"